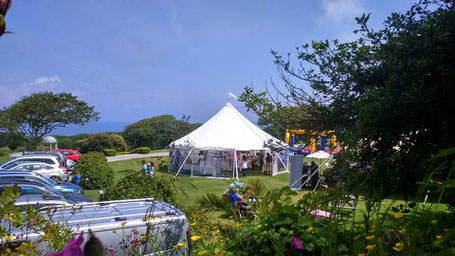 Welcome to our latest blog! Sorry for the delay...but we have been spinning from the wonderfulness of out Simply Weddings @ The Castle!
The theme for this event was Simply Weddings @ A Country Fayre. So, to complement this amazing event we handpicked suppliers who could provide services based around this theme. We had it all ...
A soft gentle guitar was played beautifully and floated in the air around our gorgeous Sailtent and amazing Jabula Stretch tent.
The children were entertained by the bouncy castles and the soft play area, whilst the adults played a little giant (not sure if that's right!) Connect Four.
Brides, grooms, mums, dads and grandparents lazed in the sunshine on the lawns enjoying a cream tea or a refreshing cider on the gingham check tables. When it got a little warmer there was ice cream on hand to save the day, or you could take a stroll past the Royal Daimler ... and the sparkling Wedding Tractor!
Inside there was a plethora of wonderful suppliers with lots of beautiful ideas and samples including the most stunning paper photo booth wall.....so exquisite. To finish off there was a mini set up ceremony room, beautifully dressed in hessian, lace yellows and oranges, a real taste of a summer country wedding.
We also had a mini shoot with models in muddy wellington boots! Why not indeed!
With over 100 Brides registered and an estimated footfall of 600 it was no stop all day, but with so many happy smiley faces it didn't seem like work at all.
The suppliers who attended really did get into the theme of the fayre and for that The Simply Team would like to say a huge massive marvelous THANK YOU!!
Everyone had a Simply Amazing day, with a very very special thank you to the Tregenna Castle Resort, the events team and all other members of staff, you all did an outstanding job.... See you February!!!
Our next event is in 10 weeks at the elegant Rosewarne Manor. Planning is well underway... watch this space